BAROQUE ITINERARY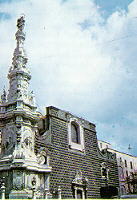 (Piazza Gesu' Nuovo)

During the 17th century the Baroque style, identifiable with the Spanish domination, not only created new works of art which gave the city the partcular appearance which distinguishes it still, but lost no time in covering over the works from the 16th century together with those which had escaped earlier stratification. This is why in some churches it is possible to see signs of the successive passages down to the 18th century. This is the case of the Duomo where we move from the medieval church of S.Restituta to the precious 18th century silver statues kept in the treasury of S.Gennaro almost without noticing it.
The monuments, paintings and works of artistics craftsmanship to be seen as part of the Baroque itinerary are representative of a particular style which may be defined as the search for a bold harmony of form, colour and light. The results are a profusion of gilded stucco-work and marble mosaics on altars, balustrades and pilasters--all of which testify to the extraordinary achievements of the Neapolitan artist-craftsmen and to the inventiveness of the architects who designed the models.
Neapolitan Baroque, identifiable as a style from 1610 on, demonstrates as its peculiar characteristics both an exasperatedly imaginative ostentation of every form and a profusion of swollen volutions and spirals present in every decoration. The style acted as a sounding board for healthy cultural expression despite the repressive climate of the Spanish domination (1506-1707) and the Counter Reformation with the inquisition and its calamities.
Decorative and easel painting established itself as the symbol of Neapolitan art throughout Europe, and in Naples it invaded every corner of the churches and the enormous baronial palaces which occupied entire city blocks.


---
Main monuments:

The Church of S.Gregorio Armeno
The Church of S.Paolo Maggiore
The S.Gennaro Spire
The Churche and Picture Gallery of Pio Monte della Misericordia
The Church of the Gerolamini
The Treasury Chapel of S.Gennaro
The Church of S.Giuseppe dei Ruffo
The Church of Regina Coeli
The Church of S.Maria del Purgatorio
The Church of S.Pietro a Maiella
The Firrao Palace
The Church of Gesu' Nuovo

---


COME BACK TO: Artistic Itineraries