THE MEDIEVAL ITINERARY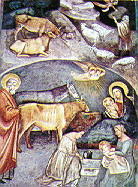 (Church of S.Lorenzo Maggiore - The Nativity Chapel)

The subdivision and schemes of the various itineraries reflected the criteria used in placing the monuments within historical periods corresponding to the passages of the city from one domination to another.
Following the brilliant moment of liberty and art of the ducal period (763-1139) (the lower rows of arcades on via Tribunali, which an old tradition attributes to the Princes of Byzantium, date from this period), Naples was relegated to the status of provincial city during the Norman and Swabian dominations. It was not until 1266 that Naples once again became capital of the kingdom under Charles I of Anjou. This event determined a complete cultural renewal and urban expansion of the city. This was due not only to the presence of the court but also to that of many French artists and craftsman.
This explains the presence in Naples, more then elsewhere, of monuments built in the French Gothic style, even though the soft tufa stone was no help to architects and master stonemasons. The reliquary and bust of S.Gennaro in Treasury Chapel of the Cathedral are a testimony to the presence of Frnch goldsmiths in Naples.
The Angevins, however, also called Italian artists like Giotto, Simone Martini and Tino da Camaino to adorn the buildings they had erected.
Florentine bankers gladly participated in financing these projects among them was the young Boccaccio who gained an experience of life which he later utilized when he wrote the Decameron.
Petrarch's presence in Naples, and his investiture as Poet Laureate, are an indication of the high level the local culture had achieved.


---
Main monuments:

The Church of S.Chiara
The Petrucci Palace
The Church of S.Domenico Maggiore
Catalonian Courtyard
14th Century Entrance Hall
Medieval Arcades
The Church of S.Lorenzo Maggiore
The Duomo and the Church of S.Restituta
The Church of S.Maria Donnaregina

---


COME BACK TO: Artistic Itineraries